WELCOME!
Welcome to Menter Iaith Sir Benfro's webpage!
The Pembrokeshire Welsh Language Initiative aims to promote bilingualism within the county. Our main projects include working with Families, Young people and the Community.
"Take Menter Iaith's Challenge
And put Welsh on your agenda" W.O.
EVENTS

Click on poster to enlarge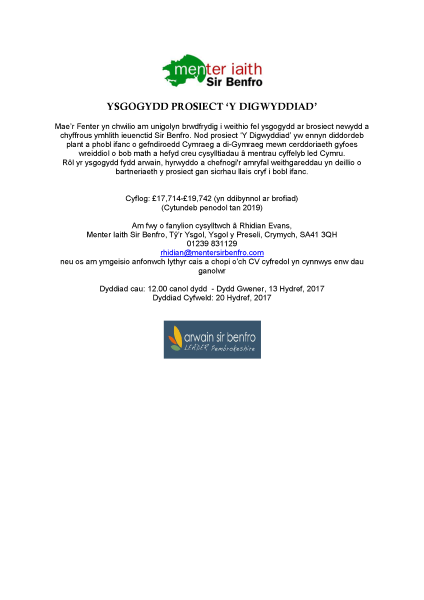 Click on poster to enlarge

DO THE LITTLE THINGS
A resource provided by Menter Iaith Sir Benfro to enhance the use of Welsh The purpose of this resource is to enable all of us in Pembrokeshire to increase our use of Welsh in order to ensure its survival. The Welsh language belongs to the whole of Pembrokeshire and these guidelines provide practical means of expanding its use. Be gallant and ready at all times to extol its virtues as a matter of pride so that it can be heard regularly and seen by all and sundry. Adopting these guidelines will add to the reservoir of goodwill that exists towards the language throughout the county. To use Welsh regularly will result in its enhancement and survival. To use Welsh irregularly will result in its erosion and demise.
To view the Press Release, click here.
The resource 'Do the little things' is available as a CD or can be downloaded here.